Sale 2, Lot 63: Unique Hallettsville Confederate Provisional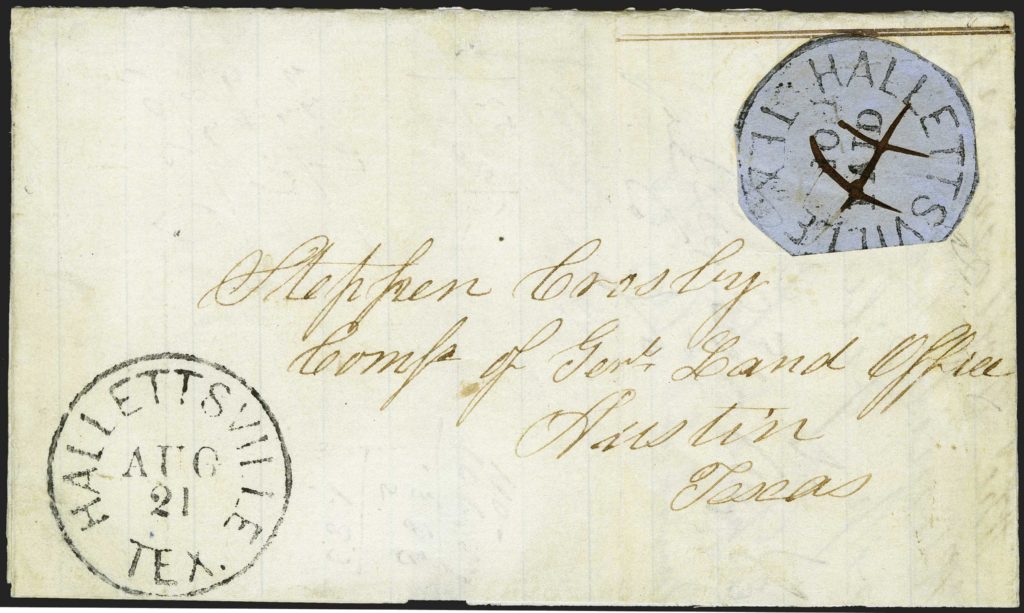 Halletsville, Texas, 37X1, 10c Black on gray blue, circular issue cut-to-shape (partly in at right) and pen cancelled, affixed on large part of a folded letter datelined "Halletsville Aug 11th. 63" with message concerning payment for a parcel of land, addressed to an official in the Land Office at Austin, full and crisply struck "Hallettsville Tex. Aug 21" postmark at lower left, docketing on back side, Very Fine and choice; the unique example.
Provenance: Alfred H. Caspary (H.R. Harmer Sale 989, 1956), Rarities of the World (R.A. Siegel Sale 371, 1970)
The first reference to the Hallettsville provisional apparently came in 1917, when Mekeel's Weekly Stamp News (December 29) ran the following:
"The Albermarle Stamp Collector states that a Confederate Provisional used at Hallettsville, Texas, August 21, 1863, has been discovered recently on a letter in the Land Office of the State of Texas at Austin. The stamp was used for 10c postage and was made from a handstamped impression of the Hallettsville postmark with "10—Paid" in the middle, instead of a date, on blue paper, cut to shape and used as an adhesive. The stamp is pen cancelled on a folded letter dated August 11, 1863, and addressed to Stephen Crosby, Comp. of Gen'l Land Office, Austin Texas."
Charles Deaton's The Great Texas Stamp Collection explains what little is known about the early history of the Hallettsville provisional in great detail. When the stamp was illustrated in August Dietz's Postal Service of the Confederate States of America in 1929, Dietz admitted that he had never seen the stamp himself and knew nothing of its origin. Outside of a Scott catalogue listing, nothing more was written of this stamp in the philatelic press until it appeared in the sale of Alfred Caspary's collection in 1956.
While the Hallettsville has rarely been touched upon in philatelic literature, the Victoria Advocate of January 24, 1937 relates that Frank Caldwell, an Austin hardware salesman, told the following story:
"One time, I was over in Hallettsville on some business when a man approached me and showed me a stamp used by that postoffice during the War Between the States. The man said that he had been offered fifty dollars for it and wanted to know if I thought it advisable to sell. He apparently didn't have any idea as to its value and was just seeking advice. 'I can get you five hundred dollars for that stamp,' I told him. The man turned pale as a sheet and finally gulped out, 'Mr. Caldwell, if you can get me five hundred dollars for this stamp, I'll five you fifty.' I couldn't stay around long enough to collect a commission but I did inform a New York dealer of the stamp and within a few days the Hallettsville man received a check for $500."
Whether or not this is Hallettsville cover being offered here is impossible to ascertain with positivity, although it would make logical sense as a second example has never turned up.