Sale 2, Lot 43: Pony Express Latham Free Frank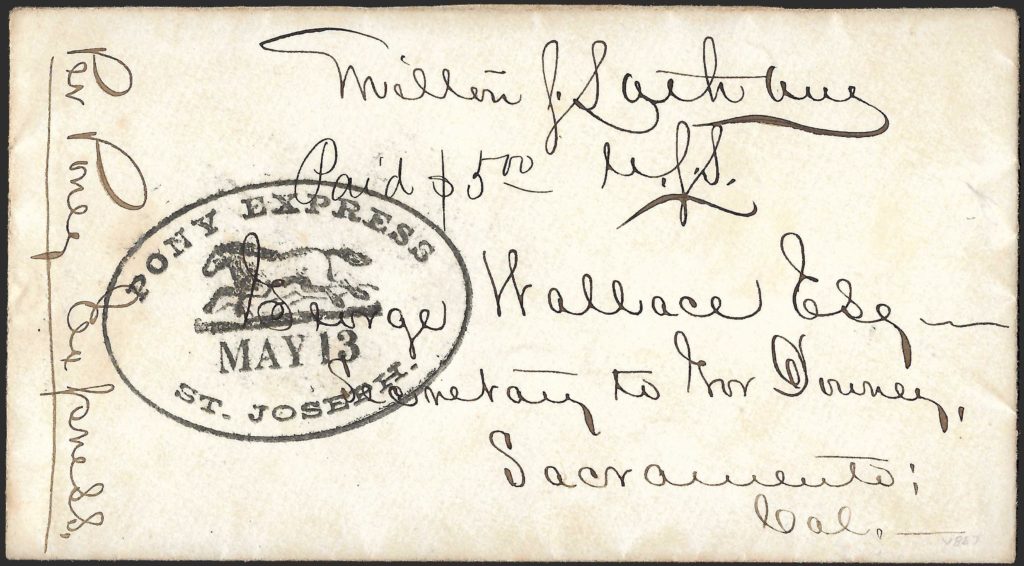 Pony Express, St. Joseph. May 13 (1860), incredibly crisp and well-struck strike of the Running Pony oval handstamp on envelope, "Milton S. Latham U.S.S." free frank (government postage), addressed in his hand to "George Wallace/ Secretary to Mr. Downey/ Sacramento Cal." (California's Governor John Downey), also endorsed "Per Pony Express" in Latham's hand, additional ms "Paid $5.00", payment of Pony Express fee written in another hand, with original contents datelined "Washington, May 8/60" entirely in Latham's hand (interesting letter including comments on the 1860 Democratic Convention in Charleston which, in the end, failed to nominate a candidate), envelope neatly opened at top, Extremely Fine in every respect and with a magnificent strike of the famed "Running Pony" handstamp; one of six Pony Express covers signed by Sen. Latham and the only one on which there was express fee charged.
Provenance: Provenance: Hall Collection (R.A. Siegel Sale 830, 2000), Thurston Twigg-Smith (R.A. Siegel Sale 979, 2009)
Milton Latham (1827-82), previously a member of the House of Representatives and collector for the Port of San Francisco, was elected Governor of California at age 32 as a Lecompton (pro-Southern) Democrat, and his election to the office of Governor was opposed by those who feared that he would make California a pro-slavery state. Two days after Latham took the oath of office, the legislature agreed to elect him to fill a vacancy in the U.S. Senate. Many believe that Latham ran for Governor because he wanted the available seat of Senator Broderick, who had been killed in a duel. When he took his seat in the Senate, Latham was its youngest member and served until 1863 but was unsuccessful in his bid for re-election. While there he was a strong supporter of the Pony Express and was one of the few individuals who could use the service free of charge.