Sale 1, Lot 124: Waterbury "Man With Hat" On Patriotic Cover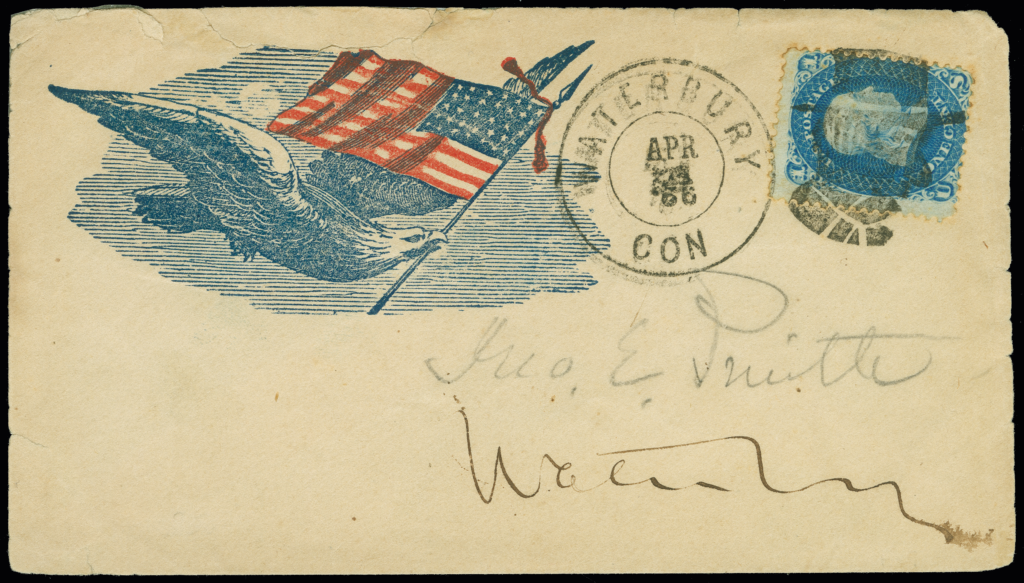 Extremely Fine strike ties 1861 1c Blue (Scott 63) on locally used Red and Blue Civil War patriotic cover depicting an Eagle flying with a US Flag (Bischel 4663 without verse), matching "Waterbury Con Apr 21 '66" double circle town marking, cover with small edge flaws including a sealed tear above the patriotic design but still fine.
Provenance: Dr. Glenn Jackson (Robert A. Siegel Sale 369, 1970), Amos Eno (Richard C. Frajola Sale 25, 1986), Dr. John Robertson (Private Transaction, 1994), John R. Boker, Jr. (Private Transaction)
Only two covers with this spectacular cancel are known to exist with an 1861 1c franking, although the other cover is not a patriotic. The Dr. Glenn Jackson Collection included an 1867 cover with a padlock cancellation that had an embossed flap and red and blue edges on its reverse, which that catalogue identified as the only other known patriotic cover with a Waterbury fancy cancellation. However, given the subtlety of that cover, we are confident in calling this by far the more spectacular of the two, as well as the only cover in existence with a Waterbury fancy cancellation that is readily identifiable as a patriotic cover. The combination of a scarce, attractive cancel on such a striking patriotic cover makes this, in our opinion, amongst the most desirable of all Waterbury covers, alongside the famed "Running Chicken" in terms of scarcity and eye-appeal.