Sale 1, Lot 109: Pony Express "First Day Cover"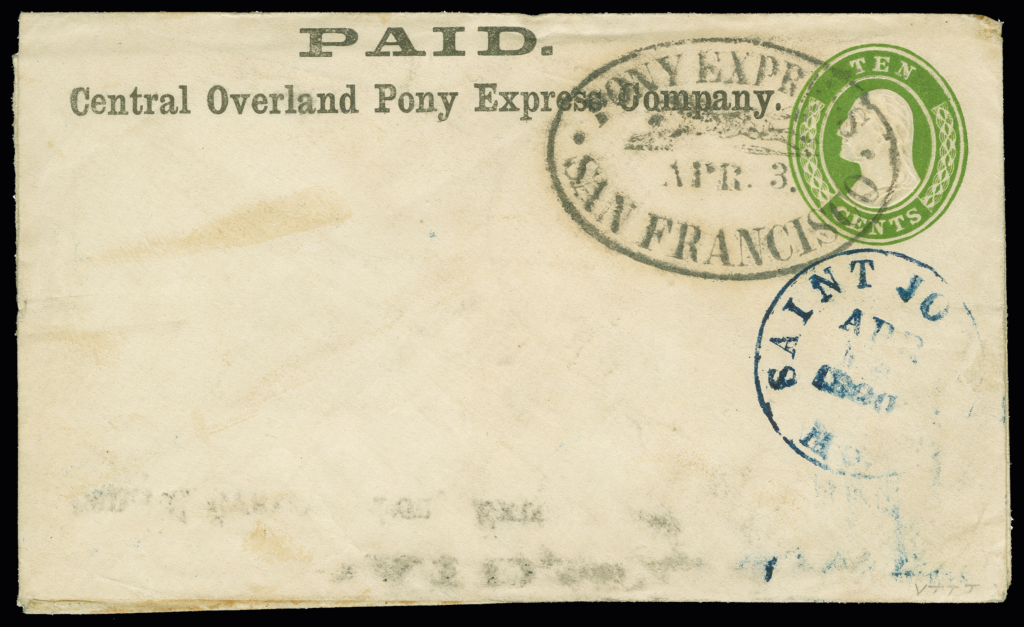 Handstamp cancels 10c Green on white paste-up entire (Scott U17) with printed "Paid. Central Overland Pony Express Company" frank and dark blue "Saint Joseph Mo Apr 13 1860" postmark, reverse with large oval "The Central Overland California & Pike's Peak Express Company Apr 13 St. Joseph, MO." handstamp and addressed to "Hon. Milton S. Latham, U. S. Senate, Washington," cover with minor toning but in otherwise good condition for a paste-up, Fine, listed as E2 in the Frajola-Kramer-Walske census
Provenance: Hall Collection (R.A. Siegel Sale 830, 2000), Thurston Twigg-Smith (R.A. Siegel Sale 979, 2009)
This cover was carried on the first eastbound trip of the Pony Express and is the finer of the two known covers carried on this first day of eastbound service (one cover is known from the first day of westbound service). The service, which lasted only a short time but has remained ingrained in the imagination of every subsequent generation of Americans, promised to deliver mail from California to St. Joseph, Missouri in less than ten days, greatly expediting communication in the days before the transcontinental railroad. Service simultaneously began in both San Francisco and St. Joseph on April 3, 1860. The April 4 edition of the Daily Alta California carried the following description of the momentous event:
"The first 'Pony Express' started yesterday afternoon, from the office of the Alta Telegraph Company, on Montgomery street. The saddle bags were duly lettered 'Overland Pony Express,' and the horse, (a wiry little animal), was dressed with miniature flags. He proceeded just before four o'clock, to the Sacramento boat, and was loudly cheered by the crowd as he started. We had forgotten to say that the rider's name was James Randall–an old hand at this business–and evidently quite at home as a rider, though he did get up on the wrong side of his excitement. The express matter amounted to eighty-five letters, which at $5 per letter gave a total receipt of $425. In nine days the news by this express is expected to be in New York."
Milton Latham (1827–1882) was an American politician, who served as the sixth Governor of California and as a U.S. Representative and U.S. Senator. Latham holds the distinction of having the shortest governorship in California history, lasting for five days from January 9 to 14, 1860. During his inaugural speech as governor, he proposed increasing U.S. Mail links from the Eastern United States to California to help facilitate commerce and personal links.
Only two letters (from the 85 reportedly carried on the first eastbound trip of the Pony Express) are known to survive today. The other, addressed to A.A. Low & Brothers in New York City, does not have as strong a strike of the April 3 "Running Pony" in black as the cover offered here, and we are confident in calling this the finer of the two. In terms of American history, it is difficult to imagine a more significant cover than one carried on the first trip of the Pony Express. Although the majority of Americans alive in 1860 never used the service (nor could they have afforded to had they desired), the legend and legacy of the Pony Express have grown so much over the years that nowadays simply the words "Pony Express" are synonymous with the mythology of the Wild West. This is one of the rare covers that transcends mere philatelic significance; it is the story of America manifesting itself in a humble sheet of paper.