Sale 1, Lot 58: The "Grove Hill" Cover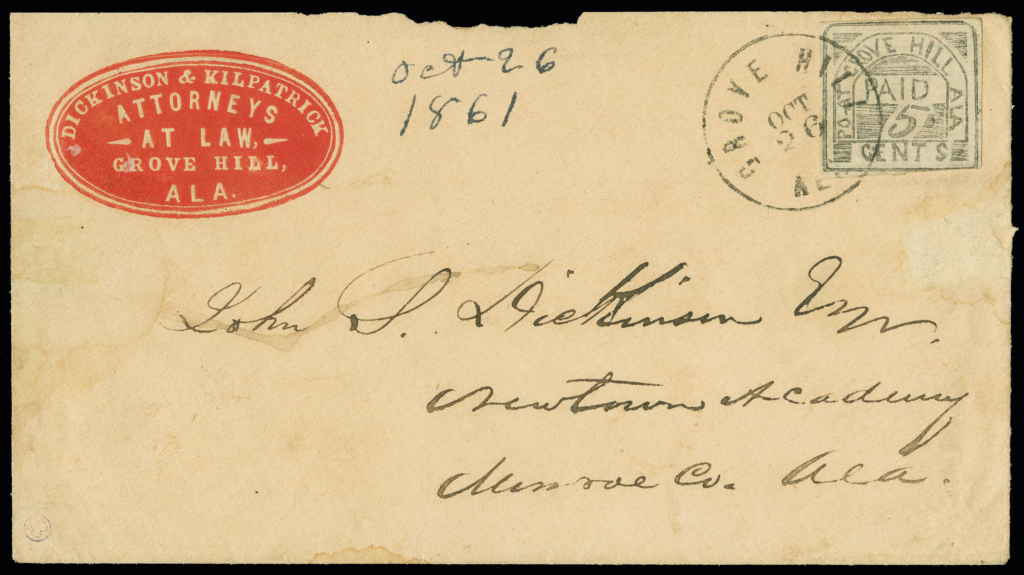 Single with fresh and clear impression of the wood cut design tied by "Grove Hill Ala Oct 26" town marking at the upper left of 1861 cover addressed to "John S. Dickinson, Esq., Newtown Academy, Munroe Co. Ala.," red embossed "Dickinson & Kilpatrick Attorneys at Law, Grove Hill, Ala." corner card, stamp ample margins except just touching at bottom right, the envelope is missing the backflap, a small nick in the top edge, and small abrasions from adhesive tape at the sides, the manuscript "Oct 26 1861" notation appears to be non-contemporary, still Very Fine showpiece.
Provenance: Count Philipp von Ferrary (Gilbert Sale 4, June 1922), Arthur Hind (Charles J. Phillips Sale 1, November 1933), Alfred H. Caspary (H.R. Harmer Sale 989, March 1956), Weill Brothers Stock (Christie's NY, October 1989)
Considered to be the finest of the three examples (two covers and one off cover stamp) recorded of this stamp and the only example on a complete cover. In fact, Herbert Bloch, describer of the Caspary sales, lauded this cover as "…one of the most famous and celebrated of all Confederate items in existence." Mr. Bloch was probably being somewhat humble in his assessment; we would go as far as to say that this cover is one of the most celebrated of items in all of American philately, having been illustrated in the 1959 edition of the Dietz handbook, Linn's Philatelic Gems III, Life Magazine's "World's Rarest Stamps" (May 3, 1954), and the 1986 Ameripex exhibition catalogue. The Christie's sale of the Weill Brothers Stock of Confederate States in 1989 featured an enlargement of this stamp on the front cover of the catalogue, selected over even the "Livingston Pair" and the "Big Beaumont." 
The Grove Hill Provisional is one of a number of United States stamps that has, in our opinion, suffered due to its extreme scarcity. When this cover was offered in the Ferrary sale in 1922 it was one of a number of items picked up by the contemporary presses, both philatelic and general. Newspapers across the country pictured the Grove Hill cover alongside the Mauritius "Post Paid" stamps and the Hawaiian Missionaries. Through the time it was featured by Life in 1954 the Grove Hill Provisional was something of a household name amongst philatelists, alongside the Alexandria "Blue Boy" and the "Big Beaumont." However, the long delays between appearances at auction and near-lack of public exhibition have resulted in a reduced awareness for the cover. Very nearly nothing has appeared in the philatelic literature for some time regarding this attractive and rare issue; it is our hope that the sale of this cover will work to rectify this unfortunate fact.