Sale 1, Lot 52: The Unique "Spaulding's Penny Post" With Border Cover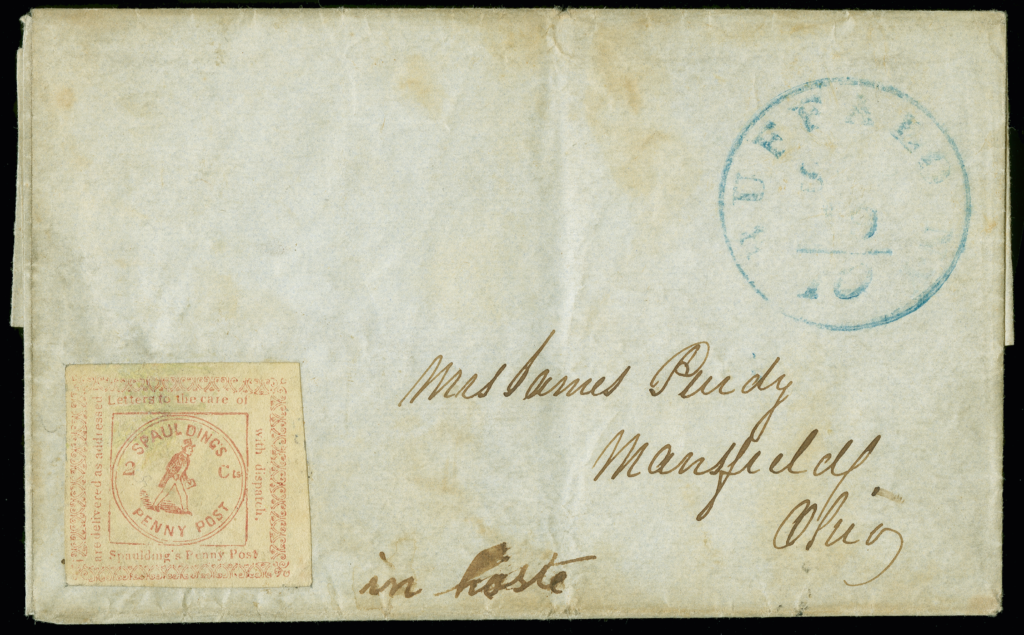 Single with ornamental border surrounding text around a central design affixed, but not cancelled, on folded letter sheet used c.September 10, 1849, addressed to "Mrs. James Purdy, Mansfield, Ohio," stamp with large margins all around, the cover shows trivial edge toning and a light file fold at center away from the stamp, some light aging just affects stamp, a Fine and rare cover not seen for generations.
Provenance: John R. Boker, Jr. (Private Transaction)
The history of Spaulding's Penny Post of Buffalo, New York was long shrouded in mystery. The existence of the post was entirely unknown until 1915, when a Mr. Harry C. Flierl of Buffalo reported the discovery of a stamped envelope to Mekeel's Weekly Stamp News (July 24, 1915). The writer concluded that Enos W. Spaulding must have taken inspiration for the design of his stamp from Gordon's City Express in New York City, as the two designs are nearly identical. The article in Mekeel's also reprinted a contemporaneous newspaper advertisement which helped to confirm the existence of this local post.
The dating of the cover offered here is based on the postmark, which is thought not to have been placed in use prior to December 1848, combined with the fact that Spaulding sold his firm in October 1849. This is the only recorded example of this stamp used on cover and one of two known examples of the stamp. The second copy is an unused single and was sold in 2017 for $22,000. This cover was discovered sometime around 1952, at which point it was described by Pitt Petri in a 1953 article in the Collectors Club Philatelist (Vol. XXXII, No. 2). As this was the discovery copy (the unused example first appeared at a 1973 Robson Lowe sale), the existence of this stamp was entirely unknown to philatelists for over a century. John R. Boker, Jr. purchased this cover privately, as did Haub, which means that this cover has never been made available at public auction. Its late discovery and limited ownership history make this, in our opinion, one of the most important offerings of a local stamp cover in recent philatelic memory.