Sale 1, Lot 36: Berford & Co.'s Express Tête-Bêche Pairs On Cover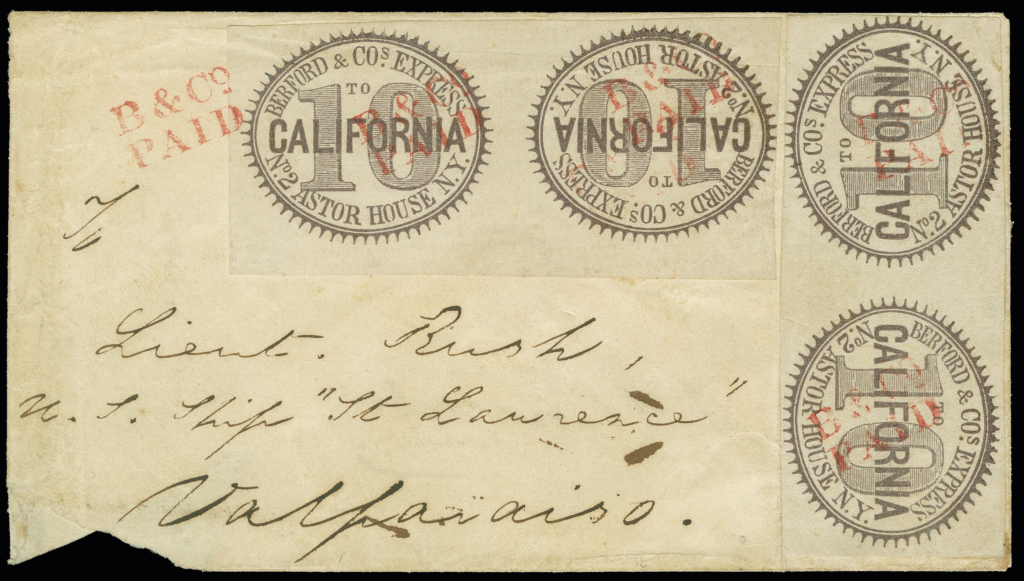 Two nearly four margined pairs (from the same block of four) with six strikes of the red "B & Co. PAID" company handstamps (one tying the left pair to the envelope and the others cancelling the individual stamps), c.1852 cover addressed to "Lieut. Bush,/ U. S. Ship 'St. Lawrence'/ Valparaiso," ms. docketing on back side indicating reception on "April 28th" and signed by a "WH Vincent," pair positioned horizontally with a light pre-use crease, the other pair was removed and replaced on this cover of origin and has a light bend due to a fold in the cover which has a small piece out at lower left, Very Fine and choice.
Provenance: George B. Mason (Private Transaction), Senator Ernest R. Ackerman (Private Transaction, 1928), John H. Hall family collection (R.A. Siegel Sale 830, 2000), D. K. Collection (R.A. Siegel Sale 862, 2003)
One of two covers recorded bearing a Berford & Co.'s tête-bêche pair and the only cover with two tête-bêche pairs, additionally one of only four covers with Berford franking showing the 40c rate to the West Coast of South America. There are thought to be less than 20 covers total extant from this short-lived company, and only five covers with the 10c value. 
An article in the July 8, 1851 issue of the New York Evening Post, titled "The Government Beaten in Cheap Postage," reads in part:
Let the government come down as low as it may in its charges for doing what is properly the business of individuals, private enterprise, if left free, underbids it. It is supposed by many that the government has given the people cheap postage, and certainly the rates are low compared to what we have already paid. But Berford &. Company, whose Express office is established in this city, gives us cheaper postage yet.
After a tumultuous several-year existence that included frequent legal troubles with the United States government, advertisements for Berford & Co. appear to cease abruptly around April of 1854, suggesting the end of the service. For the few years that they existed, however, Berford & Co. was quite popular (as evidenced by the article quoted above). In the early 1850s Berford & Co. were advertising service to Rio de Janeiro, Valparaiso, Panama, and California. The 40c rate to the west coast of South America was most often paid with four 10c stamps (three of the four covers known), with the fourth cover featuring a unique rate make-up of a 3c stamp, two 6c stamps, and a 25c stamp.
Only three tête-bêche pairs of 11L3a exist (all contained on two covers), making this amongst the scarcest varieties of all local stamps. According to Elliott Perry this cover was missing the righthand pair when Senator Ackerman acquired it and the right edge of the cover was folded over. It was only at a later date that the missing pair was once again offered and reunited on its original cover. This unlikely occurrence adds an air of romance to what is already one of the most significant local covers in existence.